Political Science Librarian
The Division of Political Science at Portland State University is in the Hatfield School of Government. Programs focus on civic education that enable students to learn about a variety of issues in political science such as conflict, power, and diversity.
Whether you're looking for books, articles, or reports, you'll need to learn how to narrow and broaden your searches, and you'll need to know how to use the various tools to find these items.
This guide will help you with all of these things, but you might also start with PSU's Library Research Tutorial to brush-up on your library and research skills.
Use the tabs above to navigate through the following pages of the guide:
Find Books - find print and eBooks and learn how the library can get you books we don't have in our collection.
Find Articles - search for articles online and in print. Recommends the best resources for finding political science articles.
Find Statistics- find the best places for statistics useful for research and study of political science.
U.S. Politics- find the best places to research United States politics and elections.
International Relations & Comparative Politics- find the best resources for international relations and comparative politics research.
Local Politics- find information about politics in Portland and the state of Oregon.
Citing Sources- Find links to help you properly cite your research.
ProjectMuse

We just added 400 or so ebooks to our ProjectMuse collection. They are all political science/public policy focused.

State Stats

A new package that points to all sorts of federal data.

CQ Press Political Reference Suite

Just in time for election season, we have updated new ebook reference materials in political science.
The Concise Oxford Dictionary of Politics (ebook)
ISBN: 9780199207800
Publication Date: 2009-03-19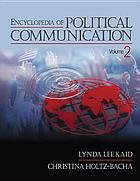 Encyclopedia of Political Communication (ebook)
ISBN: 9781412953993
Publication Date: 2007-12-21
The Oxford Handbook of Political Methodology (ebook)
ISBN: 9780199286546
Publication Date: 2008-10-15